Arts
Bollywood Bhakts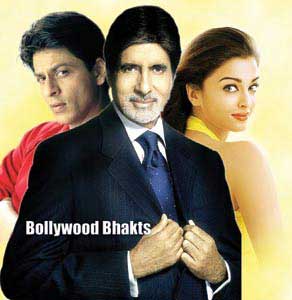 If Bollywood were an organized religion, the Bollywood Bhakts would make it the most revered church in history with their total, undying devotion.
In the Kingdom of Bollywood, Shahrukh Khan and Aishwarya Rai may be King and Queen and Amitabh Bachchan the Maha-Emperor, but in reality where does the power really lie?
Who calls the shots, who is the real life-blood of that unreal temple of Bollywood?
You may be surprised to learn it's you, me and the chap searching for samosas at the concession stand and yes, also that entire family (father, mother and two kids) who have journeyed on their Bajaj scooter in Lucknow or their dust gold Toyota van in Edison, N.J., or San Jose, Calif., to catch the latest Hrithik Roshan starrer.
In fact, there are millions and millions of Bollywood Bhakts or devotees, spread all over the world from India to Pakistan to Russia to the United States. If Bollywood were an organized religion, the Bollywood Bhakts would make it the most revered church in history with their total, undying devotion.
Vinay Srivastava, who has taught film studies at the State University of San Francisco, aptly compared this fervent devotion to the Bhakti Movement, albeit tongue in cheek: "We have this tradition of hero worship and it continues to this day. We used to have this in Hollywood too in the 30's and 40's, but it declined in the 50's. In India it persists and we do worship special characters.
"Even in politics, one family ruled for a long time, not because of any special characteristics, but because we love to give divine status to one important person. The same hero worship is transferred to film heroes and heroines."
Aishwrya Rai in concert
Film critic Maithili Rao also describes this phenomenon in her book, Bollywood: "Film stars have been the unifying icons in a country starved of role models, particularly in the post-independent days of cynical disillusionment."
Thus you have Amitabh Bachchan turned into a virtual god by legions of passionate fans. When the superstar was injured on the film sets of 'Coolie' in 1982, India's collective heart missed a beat. Hundreds of thousands of fans mobbed the Breach Candy Hospital, some offering their blood, others their prayers. Even the prime minister of India, Indira Gandhi, came to the star's bedside. Amitabh's critical condition had some distraught fans trying to commit suicide while one enterprising fan actually ran backwards for 550 kms in a novel form of penance to appease the Gods.
Surely the award for most devoted Bollywood Bhakt has to go to A.B.Kamat, the general secretary of the Amitabh Bachchan Fan Association in Calcutta, who has ambitions of building an Amitabh Temple and held huge pujas as part of an 11 day Amitabh Mahotsav in 2001. He was quoted in the media at the time, "The traditional Hindu way of worship began around 8:30 a.m. First Lord Ganesh (the elephant god) was worshipped, then Lord Narayan and finally god Amitabh Bachchan."
The magnum-opus Mughal-e-Azam , which chronicled the ultimate romance between a prince and a courtesan and the clash of love and duty has been re-released in color.
Media reports noted that six Hindu priests conducted the ceremony, chanting from scriptures before a huge garlanded photograph of a young Amitabh at the ABFA Club in the Dum Dum neighborhood. Photographs of the Hindu gods Ganesh and Narayan were part of the pantheon along with those of the film god, and a sculptor had been commissioned to build a 12-foot plaster of paris bust of the superstar for the ceremony. Plans were afoot to build an Amitabh Temple where an idol of the super star would be installed and religious hymns would be substituted with the chanting of dialogues from his famous movies.
Now, if this isn't bhakti, what is?
The devotion comes in many forms and Amitabh's recent visit to New York for a retrospective of his films had the entire South Asian community a-buzz. While he is hardly known to mainstream Americans, the 1,100 seat Alice Tully Hall was quickly sold out at $60 a pop, for a "darshan" of the star. The films were sparsely attended by the South Asian community, after all, they had probably seen them so many times they could recite them backwards. But they certainly turned out in full force for this live viewing, setting off on a teerth yatra or pilgrimage from all over the tri-state area, with grandparents, parents, children and even babies in tow.
And being in that huge hall with Amitabh enthroned on the stage was no less than being at a religious revival. The first time he opened his mouth to greet the audience in his rich baritone, the crowd went wild. Clips of his films were met with howls, whistles and claps. Although cameras were banned in the auditorium, hundreds of flashes went off from digital cameras and camera cell phones.
Scene from latest Amitabh Bachchan thriller Waqt
No rules could come between Amitabh and his devotees. And the babies seemed to bowl their appreciation too.
During Q&A, people in the crowd threw etiquette to the wind and shouted out questions simultaneously, bubbling over, asking if they could come up to shake his hand, yelling in unison, "We love you!"
And this was a group of well-heeled, savvy, upscale, even suburban Indians. It was obvious that although Amitabh had never set eyes on them, he was a part of their family, a part of their lives. They jostled him with verbal embraces and exclamations of love that comes from the intimate familiarity one would have for a dearly loved family member. Decorous Alice Tully Hall had probably never seen such an exuberant outpouring.
The Hindi film aesthetic connects villages and big cities, rural communities and sophisticated urbanites and in fact has been doing so for over 100 years, long before it got nicknamed Bollywood. The Indian frenzy for films and stars has been captured in Jonathan Torgovnik's splendid book of images, Bollywood Dreams, which reveals the hold cinema has on the masses – right from the larger-than-life hoardings of Bollywood films that tower over mortals, almost like gigantic statues of Gods in ancient Egypt, to the lines of ordinary people waiting to buy a ticket for a cinematic entrée into a dream world.
Film producers embraced diasporic fans by integrating them into Bollywood in film stories such as the highly popular Dilwale Dulhaniya Le Jayenge..
Nasreen Munni Kabir, the UK based film expert, explored the Bollywood bhakti phenomenon in her essay in Torgovnik's book. She says the early theatrical forms, such as Ram Leela and Ras Leela, the exploits of the gods, had a great impact on the evolution of Indian cinema. Early films from 1913 onwards were shown in villages and small towns in tents, close to the temple, and were visited right after prayers.

"Such devotion can still be seen in the hero worship accorded to Bollywood stars. People want to act, talk and look like their idols. Barbers down the decades have been asked to give their customers an Ashok Kumar, Dilip Kumar or Shahrukh Khan cut and tailors have been told to copy the clothes of the beautiful Madhubala or Aishwarya Rai."
Stars may be ordinary mortals in real life, but the giant screens give them a larger than life persona and Bollywood cinema is an intriguing canvas with its potent mix of music, stars, drama, dance, lavish costumes and sets. Kabir says Hindi films take on the grand themes – redemption, survival against the odds, the importance of honor and self-respect, and the mission to uphold religious and moral values, something which Hollywood does only rarely now.
"Not so in India, where film directors routinely tackle the big questions head on, even when making a formulaic run-of-the-mill entertainer. It is this particular kind of story-telling that has offered people of Indian origin their most beloved form of popular entertainment."
Little wonder then that these films hit home with viewers at multiple levels and they associate so strongly with the stars that make it all come alive. So it's not just Amitabh or Shahrukh or Aishwarya, but practically every star has a huge fan following and everyone from the rag picker on the streets to the suave college girl is excited to see a movie star in the flesh.
Scene from Devdas
"The word 'fan' comes from fanatic," points out Madhulika Khandelwal, director of the Asia Center at Queens College. "Idol is a term routinely used for film stars in India. There has been a worshipping tradition in India of leaders and of turning them into demi gods – and this is not just in Hinduism, it's almost the national culture.
The stars become leaders, where they are presenting our own lives and views on a big scale. So by seeing Amitabh Bachchan our own identity becomes bigger; our own life could be mundane but by being in touch with these stars and films somehow it's all on a much bigger scale."
It is this devotion that has made Bollywood the success story that it is. The Bhakts go to see favorite movies again and again. Take the magnum opus Mughal-e-Azam, which chronicled the ultimate romance between a prince and a courtesan and the clash of love and duty. When it was released in 1960, it became the biggest money-grosser, opening in 150 theaters. It ran uninterrupted for three solid years at the Maratha Mandir Theater in Bombay – yes, the name of the theater was just a coincidence, but it could have been a temple for all the devotion shown!

Mumtaz Hussain, a filmmaker from Pakistan who lives in Manhattan, has seen the film no fewer than 34 times and can rattle off dialogues, songs and trivia. While Mughal-e-Azam did very well the first time, the new colorized restored version of the film is drawing a cult following too. The box office collection in India was $6 million with just 180 prints, as compared to the biggest grosser of the year, the hot new Bollywood film Veer Zaara, which did $10 million with 550 prints.
The film 'Sholay' is perhaps the most popular film of all time, breaking all records, running for five years in a theater in Bombay. When fans connect with a film, they return to it time and again, so popular films routinely celebrate silver jubilees and golden jubilees.
With Indians moving out into the Diaspora, the audiences have multiplied tremendously with generations born on foreign soil being introduced to the power of Indian cinema. There are devoted fans from South Africa to Dubai to the UK and Indian films like Kabhi Khushi Kabhi Gham are top grossers abroad, because of the vast South Asian fan base.
Scene from Dhoom.
Indeed, while children of the Diaspora may not know the language or may be reluctant to embrace all aspects of their Indian culture, Bollywood is something parents and children often can agree on. Many children get their first exposure to Indian music, dance and values – albeit a Bollywood version – through cinema, since most immigrant parents wean their newborns on Bollywood videos along with the baby food. One can discover 7 year old Indian girls saying with utmost gravity, "I've been a fan of Amitabh Bachchan since I was 2 or 3 years old."
Says Khandelwal, "There's a special experience in watching a film together with other people who understand. There's a cultural language that we all share. I think it's very much a part of ethnic identity. It's very hard to first transmit and then to preserve certain traditions and cultural practices, and films are somewhat an easier medium to do that.
"These films are not just films and these stars are not actors and actresses. They really come out of the screen and become a part of people's lives. For Indians, especially who are living away from home, Bollywood has a much larger role, almost integral to the life away from home, and that's a kind of connection."
Cinema for immigrants is about community, of social interactions at theaters, of being with like-minded people who speak the same cultural language. For the young, stars become trendsetters in fashion and style. The latest filmi music is mandatory at weddings and wedding style is inspired by that seen in the movies. Just recently at a huge Indian wedding in Miami, the entire decor was inspired by the lush sets of the film Devdas.
Scene from Lagaan
Indeed, stars assume larger than life, leadership roles. The India Day Parades in California or New York do not have a national leader or politician as the grand marshal – it's always a movie star, who draws huge crowds. Says Khandelwal, "They become almost symbolic not only of the national identity of India, but also a cultural identity of India."
Busy professionals seem to melt at the sight of a movie star. When Amitabh Bachchan was at a press conference at the Lincoln Center on a week day morning, an entire contingent of fans turned up bearing a huge silver trophy for him. Dr. Akshay Dave, a physician in New Jersey, is an active member of this online fan club, which was started by Fatima Mohammad of South Africa and has 500 members in several countries. The fans meet online to discuss the superstar's movies.
Asked how a busy physician connected with being a fan, Dave fluttered about the Bachchan charisma, "I've always been fascinated by movies, even before I went to medical school. I always wanted to do something with movies, but I went into medicine so I couldn't accomplish my other dream."
Manisha Koirala.
India may be a land of engineers and doctors and IT professionals, but at heart Indians are all Bollywood Bhakts. Many would have liked to be a part of the Indian cinema, which they grew up on and around which their teen years revolved. The passion for cinema remains, no matter where they go or the professions they pursue.
Whether it is a huge national conference of American Association of Physicians of Indian Origin (AAPI) or Asian American Hotel Owner's Association (AAHOA), one of the chief guests is bound to be a star, such as Madhuri Dixit or Hema Malini. At a conference of Indian psychiatrists, Khandelwal was taken aback observing a psychiatrist in the audience ask about the psychological meaning behind a song from the popular Dev Anand movie Guide, "Tu Jahega Kaha, musafir, jahega." (Where are you going, traveler?) The audience did not find it odd , however, and the panelist responded seriously to the question.
Another time, Khandelwal attended a conference on the city of Bombay, where an anthropologist presented an entire paper on Dev Anand's films in Bombay! Bollywood is certainly getting a lot of respect, and the films are not just being seen, they are being analyzed in academia!
During the last few years with the advent of the world wide web, the influence of Bollywood has multiplied many times over, creating a virtual community, an entire online nation of Bollywood Bhakts united by the miracle of the Internet and email. Perhaps more than any other community, people of Indian origin have the most computer geeks and IT professionals.
Scene from Mughal-e-Azam
This band of Bollywood fans is adept at using technology. In a recent BBC online poll, Amitabh Bachchan was voted Star of the Millennium, beating out legends like Marlon Brando, Sir Laurence Olivier, Marilyn Monroe, Charlie Chaplin and Sir Alec Guinness. For Bollywood fans, clicking that mouse was almost their religious duty!
The Internet is currently abuzz over the reigning Queen of Bollywood, the gorgeous Aishwarya Rai. Fans have created no less than17,000 websites in her honor. She receives a mind-boggling 5000-10,000 emails dailyfrom around the world. Since it's not possible to reply to all of them, she selects them at randoms for response.
Bollywood Bhakts have set up a thriving community on the web – it's like a huge colorful souk, a bustling bazaar where you can go from link to link, from Shahrukh to Salman to Preity to Rani – each star has its ardent devotees. While some sites are hi-tech marvels, others are pure labors of love of individuals.
Aishwarya appearing on Oprah? Amitabh on Charlie Rose? The news goes out lightening fast through the tom-tom drums of email and thousands of Bollywood fans tune in to watch their heroes in action. The Internet has a thriving culture of countless sites for Bollywood news, movies, stars and fan clubs. There are Bollywood meet-groups from London to Vancouver to Houston to Bombay, in which online fans actually get together to view Bollywood movies. There's a meet-up group even in Paris!
Rani Mukherjee.
Click around and you come to bollywhat.com, a fun site for the clueless Bollywood fan who doesn't know Hindi or Indian culture. It answers such weighty questions as "Why don't the characters kiss already?" "What does it mean to wear red stuff in the part of your hair?" and "What does it mean to touch someone's feet?" It also provides detailed synopses, vocabulary lists and transliterated and translated lyrics for films, making it easier for non-Hindi speaking fans to understand the mysteries of Bollywood.
Bollywood Bhakts are a quirky lot who transform their obsessions into their life work: there's a site hosted by Uday Mahadeo Talwalkar, who has made the world's biggest typewritten portrait (21.4 feet by 13.3 feet) of Lata Mangeshkar. He used 364 A-4 size sheets of paper and took approximately 236 hours over five years to create his masterpiece.
For Bollywood Bhakts, stars are as important as food, air and water. One fan wrote in an essay on the web, "1942 is an important year in Indian history. Not only because it marks the Quit India Movement, but also because the film industry's biggest blockbuster Amitabh Bachchan was born."
Nor are they averse to risking life and limb for their tinsel gods. In Bombay: Maximum City, Suketu Mehta relates the story of two Pakistani boys who were caught by Indian soldiers as they illegally crossed the border in Kashmir: "It turned out that they hadn't crossed to join the jihad: they had braved death at the border in order to see their idol in the flesh. They had planned to travel to Bombay to see Shahrukh Khan."
Scene from Sarfarosh
With the new interest in India around the world, Bollywood fans are riding high with each new victory of their stars, be it Lagaan's Oscar nomination, Aishwarya's appearance on Time's list of the 100 most influential people in the world or Amitabh Bachchan's appointment as a UNICEF goodwill ambassador. Now Hindi movies often show in mainstream theaters in Manhattan and reviews appear with frequency in major media from The New York Times to The Village Voice. Each becomes a matter of pride for the Bhakts, a validation of what they knew all along – that Bollywood is the best.


Film producers have also embraced the diasporic fans by making them a part of Bollywood stories in films such as the hugely popular Dil Wale Dulhaniya Le Jayenge, which showed that you can live outside India, and yet always be an Indian and carry on Indian values. The recent 'Kal Ho Na Ho' focused on NRIs in New York and further incorporated the lives of immigrants into Bollywood, making overseas fans feel even more connected.
Bollywood has had its share of detractors who deride it as lowbrow and over simplistic, but the fact remains that it's got hooks, which nothing can match. Even in today's day and age, Bollywood films are often a morality play – such as the recent Bagabaan, which touched upon the very real issues of ageism and the problems faced by seniors.
These ugly truths are usually swept under the rug, but when Amitabh Bachchan and Hema Malini talk, everyone listens.
Indian cinema is also a great unifier, a Utopia where class, color, status and religion don't matter, and this appeals to the innate love of fairness that most people harbor and admire. Shahrukh Khan can play a Hindu and Preity Zinta a Muslim, and no one blinks an eye. The best talents of all religions and regions come together as one to create Hindi cinema, and that perhaps is one of the strongest virtues of Bollywood. As Maithili Rao says, "The Hindi film is the all-India film: this is a truism. It is a cementing secular force that heals and binds a contentious, clamorous people."

Bollywood has its high-brow fans too, authors such as Salman Rushdie to Shashi Tharoor to Suketu Mehta. All of them grew up watching Bollywood films and the color and surrealism of Hindi cinema finds its way into their writing. Hollywood directors from Ismail Merchant to Mira Nair to Gurinder Chadha have also been impacted by Bollywood. And now a whole generation of young Indian American actors, producers and directors are starting out in their careers, carrying the magic of Bollywood cinema in their sub-conscious.
Bollywood is all encompassing. As Khandelwal says, "This is who we are, this is part of our culture. Whether we like it or not, it looks like Bollywood has hit the mark really in terms of how cultural identity will be defined. It's about easy doses, it's about relaxing and enjoying our culture."
Bollywood fans have spawned entire industries, from DVDs and music CDs, live Bollywood shows to movies inspired fashions. Bollywood music plays in clubs and Bollywood dance has become popular as a fitness routine. And now with the new and improved, technically superior Bollywood films, a whole new fan base is being created worldwide, from Latin America to China. Russians have been avid fans since the days of Raj Kapoor but now we even have Vietnamese grocery stores in the Mid-West stocking Bollywood videos!
Even mainstream Americans are no longer immune to Bollywood's siren call. At the recent Amitabh Bachchan retrospective, a caucasian couple admitted that whenever they put on a Bollywood video at home, even their little dog starts dancing! Another woman came out of the theater, exhausted, but jubilant, "It's like going to the opera!"
Rochelle Goldman of Brooklyn, who recently visited India and attended some movies there, needed her Bollywood fix. She heard the world's most famous film star was coming to town and decided to pop in for a Bachchan film at the retrospective and was completely hooked. She was sitting through movie after movie – and on one day she saw three movies back to back. She said, "I'm just emotionally drained! You can't take your eyes off him when he's on the screen."
Evelyn Alter of Manhatan once wandered accidentally into a showing of Devdas at a multiplex where she had gone to see a Hollywood movie. She was so intrigued by the costumes, music and dance, that she decided to see the movie from start to finish. She too is addicted now and heads to every new Bollywood film that opens. She sat through several of Amitabh Bachchan movies and cooed, "I've just become a complete, total fan."
Looks like a whole new contingent of Bollywood Bhakts is being recruited! But then, who is not a Bollywood fan? When Amitabh Bachchan was asked whom he looked up to, in essence who was Amitabh Bachchan's Amitabh Bachchan, he promptly replied, "Mr. Dilip Kumar."

Looks like even God is a Bollywood fan.
scene from Veer Zaara
Even seasoned journalists turn to jelly when it comes to movie stars. At the recent one-on-one interview session with the Big B, scribes towed along a massive Bachchan biography for autographs by the star while others posed for pictures with him.
And who can blame them? Meeting Amitabh Bachchan and not taking a picture with him would be like passing up a memory snap by the Taj Mahal.
Taking the Bhakti analogy a step further, fans give the dakshana or offering in the form of the price of the movie ticket as they step into the darkened auditorium to sit in union, in silence to meditate on the utterances and exploits of their mighty cinematic gods. The problems of the real world are forgotten as they concentrate on the one truth, the one reality of the celluloid world. That's as close to a religious experience as one gets!