Politics
Behind The Glitter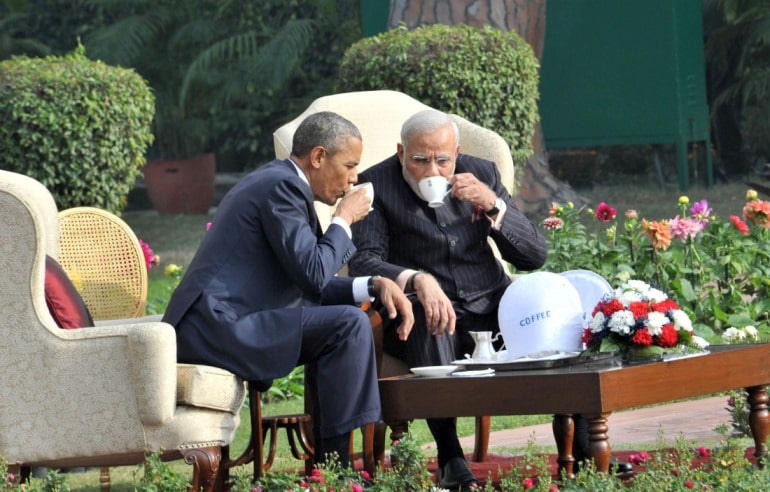 Remember that spilling with bromance moment last January in New Delhi when Prime MInister Narendra Modi affectionately poured a cup of tea for the visiting guest, U.S. Pres. Barack Obama? Or the menu of the luncheon hosted by the Indian prime minister for the American president, comprising delicacies such as Nadru ke Goolar (lotus stem kebabs stuffed with figs) and somewhat unimaginative desserts such as gulab jamun and gajar halwa?

President Barack Obama with Prime Minister Manmohan Singh at a state dinner at Rashtrapati Bhavan in New Delhi in November 2010.From a musical lunch in April this year hosted by PM Modi for the Duke and Duchess of Cambridge, Prince William and Kate Middleton, during which they savored a secretly guarded menu, with notes of santoor floating in the background, to international reports of a cancelled lunch between French and Iranian Presidents Francois Hollande and Hassan Rouhani earlier this year — reportedly over French's reservation to take wine off menu in recognition of Rouhani's faith — food has served as a tool tofsoft diplomacy. A power political lunch or a dinner can be an excellent contrivance to instill fresh vibes during highly stilted protocols and pact signings.
For lesser mortals following every move of visiting state guests, these meals serve as a lighter moment to see them as real human beings. A state banquet hosted the world over by a head of state to welcome and greet a visiting dignitary has always been a subject of intrigue and speculation.
And while increasingly governments are becoming more open with details on what makes the grand table, celebrating chefs and honoring their part, in India the details have always been carefully guarded. When Pres Obama and First Lady Michelle Obama host a state dinner in honor of visiting dignitaries, we not only get to know the menu, but also snippets such as the produce grown in the White House kitchen garden, the behind-the-scene video of the White House kitchen showing chefs at work hours before the all-important dinner.
Two years ago, U.S. media were intrigued and White House etiquette was tested at a state dinner at which PM Modi fasted on hot water while other guests enjoyed a wholesome meal of compressed avocado with goat cheese and baby bell peppers, crisped halibut with ginger carrot sauce, and mango creme brulee.
In New Delhi, India, Hyderabad House is the stately place used by the prime minister and other high dignitaries for hosting official meals. The Ministry of External Affairs and the hospitality team observes strict protocols, which are laid down by the officers of Indian Foreign Service for state events. All the important guests are received by the prime minister here. The all-powerful moment when the two world leaders shake hands with flags in the background before a pose of media is choreographed precisely.

President Obama with Prime Minister Narendra Modi at a state dinner in January 2015.
The strict adherence to principles is followed in the kitchen too. Rajan Loomba, chief executive chef, The Ashok, who manages these state dinners says, "Each item to be served is tasted by the security staff before it is served and samples of all raw and cooked food items are preserved."
The staff assures that they not only take cognizance of every religious requirement, like kosher and halal food, but individual preference too. Loomba recalls, "During the visit of Mr. Bill Clinton in March 2000 we came to know that he loves mangoes, but being March it was not a mango season. So we added mango ice cream to the list of desserts and he was surprised that his love for mango was taken care of."
It is often these little gestures, thoughtfully incorporated that leave an indelible impression.
Flag colors of the guest country are coordinated in linen and flower arrangements, which German Chancellor Angela Merkel was touched by during her visit to India last year.
Everything seems seamless, almost mechanical, at state dinners, the preparations are anything but. During the banquets hosted by Vice President of India, his wife undertook the tastings. During Pres. Obama's visit last year, preparations started nearly a month in advance. For Chai Pe Charcha, initiated by PM Modi, lotus were specially planted in the pool of the front lawns.
Loomba said, "Two sets of menu as suggestion are shared with PMO or Vice President secretariat for approval."
The kitchen staff is surprised by the responses their dishes sometimes garner. For instance, during a state visit a delegate asked for a khichri refill that was unusual. There have also been times when paan and jalebi have been served to dignitaries upon request.
The aim behind the state dinners, according to chefs, is to give a feel of India to the guests through a gastronomic experience.