Arts
Bachchannama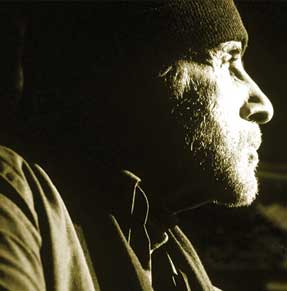 On the auspicious occasion of the towry inferno's 66th birthday on Oct 11, we hit the rewind button to flashback on Amitabh Bachchan's four decades as Shahenshah of Bollywood!
Amit. Amit Bachchan. That's how he was known in the early sixties in a Calcutta that really rocked, socially, culturally, intellectually and commercially. Young, tall, lanky with limbs that seemed to go on forever and a very conspicuous Adam's apple, which kept bobbing up and down (in distracting fashion), the guy worked as an executive at a multi-national company and lived the charmed life of a carefree bachelor in a city that offered an embarrassment of riches.
Amitabh Bachchan in The Last Lear
I met him a couple of times through my St. Xaviers college buddy Victor Banerjee, who was starring in a musical (along with him) entitled Desert Song. Shy, well-mannered and soft-spoken, he appeared the retiring kind – one who, despite an active interest in English theatre, didn't like to scorch public space with his personality. However, I have to confess, that even in those early days, what struck casual Bachchan-watchers was his innate sense of composure, quiet dignity and the way he conducted himself in public. The man epitomized refinement, an endearing sense of reserve and … class.
One fine day there was a buzz that the Bachchan guy, the "lamboo" with a great voice, was splitting from the city to try his luck in Bollywood! Had he totally lost it? Was he suffering from delusions of grandeur? This was the late 1960s when the Rajesh Khanna wave was at its demonic height. What on earth could this toothpick offer? The first reports of his signing-on Saat Hindustani and the subsequent news that it hardly got a decent release prompted collective shrugs from our crowd.
The all star family
My trips to Mumbai confirmed my worst fears. Right from his name (in an environment bursting at the seams with Kumars, Kapoors, Khannas and Khans) to his looks, background, stature, body language and the way he conducted himself, Bachchan was a mega-misfit all the way. Ridiculed, overlooked, neglected and rejected, Bachchan's first commercial success – after his critically acclaimed performance in the Rajesh Khanna – driven Anand – was perceived as a never-ending corny laugh-fest. Playing lead opposite Aruna Irani, in Mehmood's Bombay to Goa, he let fly a fine zinger of a performance, but it was the star comedians show all the way, and the lightweight hero was quickly forgotten by most.
Luckily script-writers Salim-Javed weren't among them. I remember Javed Akhtar telling me how Bachchan and Zanjeer happened. "Salim saab and I were at the end of our tether in terms of whom to cast as our edgy, unsmiling, intense cop who believed in violence without apology, spoke with his fists and generally epitomised the impatience and restlessness of that era. Today, we are so thankful that the script was vetoed by several established heroes of that time, because no one could ever dream of embellishing the role with the kind of style, deadly cool and panache, re-enforced with that heart-wrenching touch of soul-searing vulnerability that Amitabh Bachchan did. It took us only a few scenes in that silly Mehmood caper to decide who would be our Vijay. That's how Zanjeer and the Angry Young Man was born."
The Bachchan family
Interestingly, I was in Mumbai and at his Vile Parle residence during that auspicious September of 1973, a week before the release of the film that would change his life forever. Bachchan was pleasant and polite (as always) as we recalled the exciting Calcutta of the mid-60s and common friends, but appeared a bit jumpy and restless. He had just completed, he said, a role in a film where he played a cop who repeatedly takes the law in his hands. There were no light moments of the usual, popular escapist, audience-friendly romance and comedy. It was an unrelieved, intense, one-dimensional saga of a loner wanting to take on an unjust corrupt world. The guy was going through a miserable phase – the industry's undisputed Mr. Unlucky – and he was desperately praying for the film to turn the tide. Would it? He requested me to pray for him. I remember smiling bravely and flashing the V sign before leaving his house. Another bomb, I told myself, beginning to feel real bad for the talented but jinxed actor, specializing in good performances in lousy movies that regularly bit dust at the box-office. Ah well …
Amazingly, it was this very same Zanjeer that unchained Amitabh Bachchan from ill fortune and catapulted him into planet Wow. Fusing sexy machismo with Clint Eastwood-style cool, Bachchan introduced a brand of anti-herogiri never seen in mainstream fare which – bingo – worked! Tapping astutely into the temper of the times (an environment ripe with impatience, ferment, frustration and helplessness at a system that failed to deliver) the young actor soon found himself re-shaping his connect with the industry and audience alike. Success brings confidence and very soon, widening his histrionic bandwidth to include his brand of comedy, romance, song-dance, action, drama with a kind of magnetic conviction and credibility, he became the definitive one man industry.
His astonishing highs, his sudden lows with Toofan and Jadugar (a decade and a half later), his unhappy association with politics and the ABCL nose-dive have been chronicled a zillion times to warrant repetition. His amazing phoenix-like resurrection as an anchor in Kaun Banega Ka Crorepati in early 2000, however, demands re-telling.
Siddharth Basu, who produced the landmark reality show, lays it on with trademark eloquence. "STAR was looking for a vehicle that would be a flagship for the turnaround relating to the launch of their Hindi channel. Who Wants to be a Millionaire, the hugely popular U.K. originated game-show was one of the concepts under consideration. The format was exceptionally strong and the temptation to use it was great, but the crucial question was: who would be the face for the show. We needed magical and mesmerising charisma and drawing power across the board. Many names were lobbed but when Sameer Nair (Programming Head) threw in AB, my jaws dropped! I tried to visualize the enormity of the project, whether the Big B would agree and did Sameer really hope to pull off mission impossible? The overwhelming success of KBC I & II bears testimony to the mind-boggling teamwork involved, but it was AB who really was the crucial driver for taking KBC to the skies! Blending style and class with mass-appeal, he infused in the show color and drama that was truly awesome! The bi-lingual ease and eloquence fused with a warmth that connected with every single participant across 350 episodes was incredible! Diligent, disciplined and conscientious, he took pains to do his homework after every single episode and at the end of the day ultimately managed to achieve the impossible – bestow on the box the dimension of the big screen! He broke the rules, re-invented himself with cool leather and denim outfit in the sequel and generally blew everyone's mind. Man, whatta guy!"
Today Bachchan's audacious willingness to not only push the envelope, but cram it to bursting point, through doing a variety of roles with a range of young, new age directors, seems to reflect his conscious decision of taking that magic leap into the exciting unknown. And with accolade, applause and awards across the globe, films, shows and endorsements raining on his backyard and his popularity once again zooming skywards, the Big B has truly gained iconic status.
As a passionate Bachchan-watcher I have tracked his journey from nowhere land to Shahenshah territory. Some actors occupy the stage; few rule it. Some actors hold an audience; few possess it. Some actors light up a scene; few ignite the entire film. These combustible few blaze with the magic and mystique of acting – authority, intelligence, intuition, intensity – that triggers that sublime leap to greatness. There is a charisma apart from the role itself when these blessed creatures grace the screen, transforming co-stars into awed, rapt and overwhelmed onlookers!
Keep going Sexy Sam … Kabhi Alvida Na Kehna. Yours is the power and glory……
RITUPARNO GHOSH
ON THE BIG B'S NEWEST LANDMARK Lovers of quality cinema will be familiar with film-maker Rituparno Ghosh. The youngest (Gautam Ghosh, Aparna Sen, Buddhadev Dasgupta are older) director of this celeb list from Kolkata, he struck with his very first directorial debut project Unishe April (19th April) a decade ago. He has never looked back, garnering name, fame, respect, accolade, adulation and awards at home and abroad. He is also the only director who, sitting in Kolkata, gets the biggest Bollywood stars to come down to the city and work happily in his projects for peanuts! Ash Rai, Ajay Devgun (Raincoat, Chokher Bali) Abhishek Bachchan and Soha Ali Khan (Antar Mahal) and now Preity Zinta and the biggest of the big … The Big B (in the English language film The last Lear, also starring Preity Zinta, Arjun Rampal, Shefali Shah and Divya Dutta).
Rituparno Ghosh with Amitabh Bachchan
In this exclusive interview with Little India, the film-maker talks of his unforgettable once-in-a-lifetime experience collaborating with the towering inferno.

Over to Ritu …
"Like everyone else, I was a huge fan of Amitabh Bachchan! When I started working in films, got more serious, involved, knowledgeable and experienced and watched his performances more closely, I felt that somewhere, (beyond his stunning ability to make the craziest and most filmy situation look convincing and believable), there was a void in his arsenal; one kind of fire-power was missing. I had absolutely no doubt that – intelligent, sensitive and honest that he was, in his heart of hearts, aware of it, but as a megastar, your roles are largely defined by your history of box office hits and The Angry Young Man image stuck to him like an albatross! With time, he slowly shed it and transitioned magnificently into character roles, but still, I continued to feel that there was an entire universe of untapped energy waiting to be detonated …
Once I got to know the family (I am very close to Jaya-di and very friendly with Abhi and Ash) and started interacting with him, I found him cordial, refined, polite, but formal. While I wasn't really intimidated, there was certainly a distance between us. However, the idea of casting him took seed only when I started seriously thinking of making The Making of the Last Lear. Once the script was ready I really couldn't think of anybody else who could lend the kind of charisma, chutzpah, magic and gravitas that defined the persona of Harish Mishra, the veteran recluse, eccentric theatre actor who lived in the past and raged against the modern world with all the fire and fury he could muster! When I first approached him with the proposal and concept, he asked me to tell him the gist of the film in 3 lines! I did. Later, I gingerly sent him the script too. He obviously liked the concept and storyline enough to read the script carefully and come to the shooting, meticulously prepared.
Working with Amit-da was an enriching experience. He does his homework inside-out even today after being 38 years in the industry. He offers suggestions, but never ever compromising either his dignity as a professional actor or intruding on the allotted space of the director. He works quietly and privately and is forever open to suggestions. He never ever throws his weight around and goes out of his way to make every single member of the cast and crew comfortable. He, for me, redefined the term "professional," replacing the stereotypical image of a cold and clinical artiste to a person exuding warmth, positivity and sincerity.
He is also an amazingly honest actor, always ready to own up any deficiencies or limitations he may encounter while portraying a scene. Clichéd as it may seem, he is a director's dream, responding to both the big gesture and nuanced unspoken moment with the same unerring sense of total understanding and delivering, in the magical manner that only he can! Since this was a totally different genre of film from the movies he usually engages in, I found him (as I always suspected) hungry to explore, savor and get his teeth into a completely new histrionic experience. When was the last time, if ever, anybody saw him in a shabby, unkempt, raving, ranting, eccentric role coloured with vulnerability and insecurity? Amitabh Bachchan (if the critics at Toronto, London and Goa Film Festivals are to be believed) has delivered a powerhouse performance … majestic, moving, magical and memorable!
Thanks Amit-da. For me, you will always remain The Last (and greatest) Lear."
– Monojit Lahiri