Politics
Atal Bihari Vajpayee, Former Prime Minister of India, Dies at 93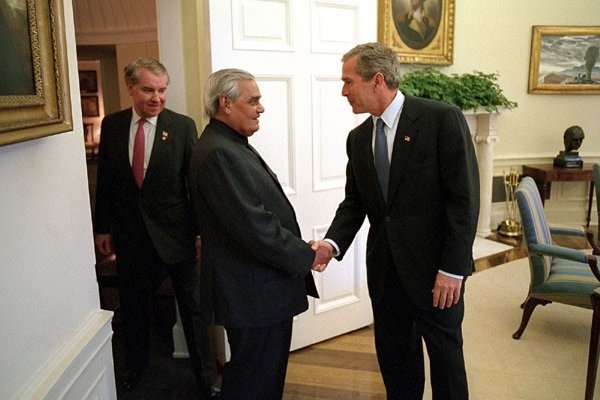 India's current prime minister, Narendra Modi, said on Twitter that Vajpayee's death marked "the end of an era."
Atal Bihari Vajpayee, who as India's prime minister from 1998 to 2004 stunned the world by ending a decades-old moratorium on nuclear weapons tests but nevertheless managed to ease tensions with Pakistan and build closer ties to the United States, died Thursday in New Delhi. He was 93.
The Indian central government announced his death but gave no further details. The Times of India said that Vajpayee, a diabetic, was admitted to the All India Institute of Medical Sciences in New Delhi on June 11 with kidney tract infection and other ailments and had recently been placed on life support.
A published poet, Vajpayee dabbled in law, journalism and rebellion against British colonialism as a young man. A leader of the Hindu nationalist opposition to the once-invincible Indian National Congress party of Gandhi and Nehru, for most of his 50 years in politics he was virtually unknown outside India.
But for six years in his late 70s, Vajpayee was the face of the world's most populous democracy, a nation of 1 billion whose ethnic, religious and regional conflicts had fomented massacres, three wars with Pakistan and internal strife for a half-century after independence from Britain in 1947.
India's current prime minister, Narendra Modi, said on Twitter that Vajpayee's death marked "the end of an era."
By the time he became prime minister in a pink sandstone palace that once housed Britain's viceroys, Vajpayee was an experienced, nuanced politician. He had served decades in Parliament, was foreign minister from 1977 to 1980 and was even prime minister for 13 days in 1996, a tenure cut short when his squabbling coalition fell apart.
Two months after he was sworn in, India detonated several nuclear bombs in underground tests. It had been 24 years since the country's only previous test, in 1974, and while its nuclear-weapons capability had long been assumed, the 1998 tests impressed on the world that India had joined the circle of declared nuclear powers.
Pakistan responded quickly with its own tests. Some nations invoked sanctions and condemned India for breaking its moratorium, but Vajpayee defended the move as vital to Indian security.
Tensions between India and Pakistan escalated. In 2001, Muslims with guns and explosives staged a deadly attack on India's Parliament. In 2002, a Muslim mob attacked a train carrying Hindu pilgrims, and some 1,000 people were killed in retaliatory rampages.
Vajpayee denounced the violence and distanced himself from the extremists. Hostilities eased, and a thaw began in 2003. Vajpayee and President Pervez Musharraf of Pakistan met and established diplomatic and transportation links.
Vajpayee also went to China and began to resolve a long-standing border dispute. As the Cold War ended, he moved nonaligned India closer to the United States, welcoming President Bill Clinton to India in 2000 and strengthening bonds with pledges of support for the United States after the terrorist attacks of Sept. 11, 2001.
In economic overhauls, Vajpayee privatized state-owned industries, encouraged foreign investment, eased trade restrictions and fostered an information-technology revolution that created 1 million jobs. But critics said he had failed to lift tens of millions out of unemployment and poverty and had largely neglected health and education programs.
Vajpayee supported equal rights for Muslims, Christians and others in his overwhelmingly Hindu nation. His Bharatiya Janata Party had long tried to undermine India's secular identity to create a Hindu state. Vajpayee, a moderate, pushed back at militants in his own coalition. He also championed women's rights and the eradication of castes.
He resigned as prime minister in May 2004 after an upset by the Indian National Congress. In declining health, he retired from active politics in December 2005.
Atal Bihari Vajpayee was born on Dec. 25, 1924, to a family of high-caste Brahmins in Gwalior, in central India. His father, Shri Krishna Behari Vajpayee, was a secondary-school teacher. As a youth he flirted with communism before shifting ideologically and joining the National Voluntary Service, a right-wing paramilitary group that was the guiding force behind Hindu nationalism. In 1942 he was jailed for 24 days for anti-British activities.
He graduated from Victoria College in Gwalior, earned a master's degree in political science from Dayanand Anglo-Vedic College in Kanpur and studied law in Lucknow. But with independence and partition into Hindu India and Muslim Pakistan, Vajpayee became a journalist, working for Hindu nationalist publications.
In 1951 he helped found Jana Sangh, a Hindu nationalist party. He was first elected to Parliament in 1957.
Re-elected 11 times, he became a prominent critic of the governing Congress party. In 1975, he and thousands of other dissidents were jailed under Prime Minister Indira Gandhi's emergency decrees suspending civil liberties and elections. He became foreign minister in a new coalition two years later.
In 1980 Vajpayee helped found the Bharatiya Janata Party, which became the main opposition group and his primary vehicle to power. He shared its view that India should enshrine Hindu culture, but he passionately opposed discrimination against other religions. Critics called it contradictory, but voters did not agree, and in the 1990s he became one of India's most popular figures.
While he never married, Vajpayee raised as his own child Namita Bhattachariya, the daughter of a longtime friend. She became a teacher and at times served as his official hostess.
Vajpayee wrote a reflective brand of Hindi poetry. He published several volumes, including "Fire Is Immortal" and "Death or Murder."
India's central government declared a seven-day mourning period across the nation and said a state funeral would be held Friday afternoon.
© New York Times 2018