Bollywood
Ahead of Navratri, Condom Ad Featuring Sunny Leone Draws Fury in Gujarat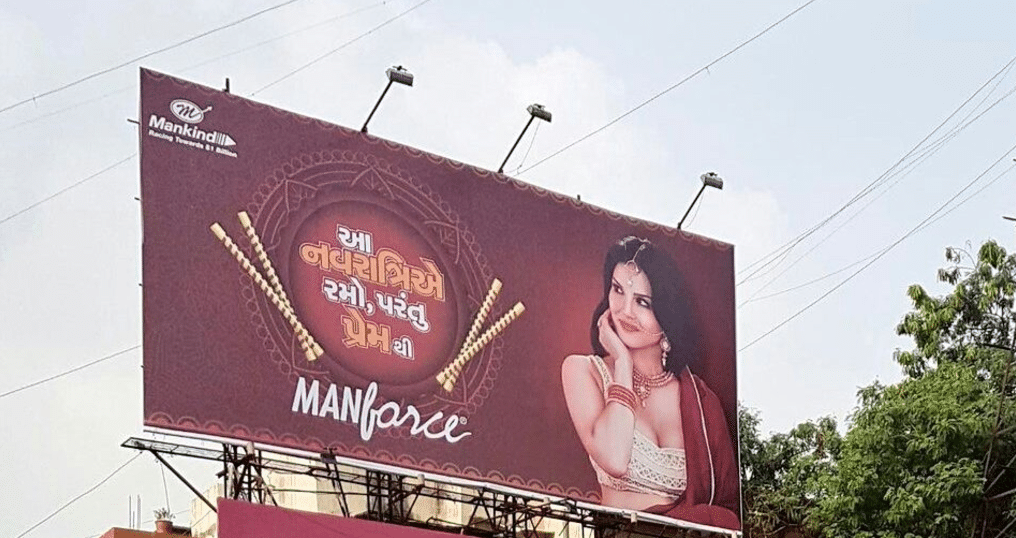 The advertisement, carrying an image of former adult film actress Sunny Leone, centered on the Navratri theme.
By
An advertisement on condoms that featured former adult film star Sunny Leone sparked fury in Gujarat ahead of the Navratri festival. Indian authorities were said to have torn down on Sept. 19 dozens of billboards that carried the campaign after they received a slew of complaints.
The poster featured an image of Leone, a Canadian actress of Indian origin, advertising contraceptives ahead of the religious celebration of Navratri, which proved too much for some in the home state of Prime Minister Narendra Modi, AFP reported.
The posters did not feature any image of a condom, and carried the statement, "Aa Navratri a ramo, parantu premthi" (This Navratri, play but with love). "The implications on the billboards insulted the religious sentiments of Hindus," Narendra Chaudhary, a businessman who serves as the leader of the Surat-based group Hindu Yuva Vahini, told the Times of India. The group also staged a protest at one of the locations where the ad was placed, the publication reported.
#Hindu groups are up in arms against a hoarding of a condom ad, feat: #SunnyLeone, calling the ad hurtful towards religious sentiments! pic.twitter.com/uBiA5tBbYf

— Sheraz Khan Rajput (@SherazKRajput) September 19, 2017
The Confederation of All India Traders accused the condom manufacturer in a written complaint, saying the lewd ad took marketing "to an all-time low".
"This is an immature attempt to boost sales by putting all our cultural value at stake," the organization said in a statement.
The protesters have taken offense with the implicated link between sex and Navratri, which is a nine-day festival involving fasting and prayer. The occasion is also known for the light-long celebrations marked with group dance events called dandia, which are immensely popular with the youth, and are said to give them an opportunity in an otherwise conservative society to mingle around freely.
Leone, who moved to India to work in Bollywood movies, is a brand ambassador for Manforce, one of India's largest condom manufacturers. She appeared in some adult films, such as Descent into Bondage and Costumed Damsels in Distress, before transitioning to mainstream movies, where she has always a magnet for criticism.
The actress, however, found support from many people on social media. Twitter user Anshul Saxena, for instance, said: "What is the fault of Sunny Leone over Navratri themed Manforce condom Ad? Its Mankind Pharma who put hoardings. Sunny is not owner of Pharma." Another user, Kahkashaan Mantoo, pointed out that condom sales are said to be the highest during the nine-day festival.
#SunnyLeone Condom sales r highest during Navratri & that's the fact
The Hindu groups don't have a problem with the fact but with this ad

— Kahkashaan Mantoo (@KMantoo23) September 19, 2017