Life
A Seven Day Miracle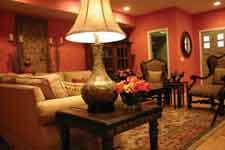 Their life went from being a nightmare to a heavenly dream.

Winston Peter, a Hindu priest from Guyana who lives in Queens with his family of nine, had struggled to acquire a house. After they finally furnished it, a boiler burst and started a raging fire in 2004. They lost their home, their possessions and were forced to live in the burnt out shell, without heat or hot water. They boiled water for their baths on a propane stove. Winston was not able to afford any renovations on his meager income. But, as his wife Hardai says, they just kept on praying.

The Almighty can take many avatars and for the Peter family, he took the shape of Extreme Makeover: Home Edition, a popular reality show on ABC television. Their 21-year-old son had sent an S.O.S to the program and the design team headed out to Queens to help them create a fantasy home – all gratis.
The Extreme Makeover: Home Edition design team, local builder contractors and hundreds of workers tore the entire house down to its foundation and a palace arose in its place. For those seven days, the Peter family was sent off on an all-expenses paid trip to Walt Disney World.
They returned to a dream house with fabulous rooms bursting with designer styled furnishings, state of the art electronics and even a music room and a puja room, which was created by the designers after consulting with a local ashram.
The family's five children and a niece and nephew who live with them were all consulted on their dream rooms and given exactly what they desired.
Hardai is blissful about this modern day miracle, but loves her kitchen the most with all its designer touches and its shining stainless steel gadgets, which never seem to stain. She says the family's favorite room is the puja room because being a very religious family, they know who made it all happen.