Food
$40,00 Cake Baked in Dubai For Indian Independence Day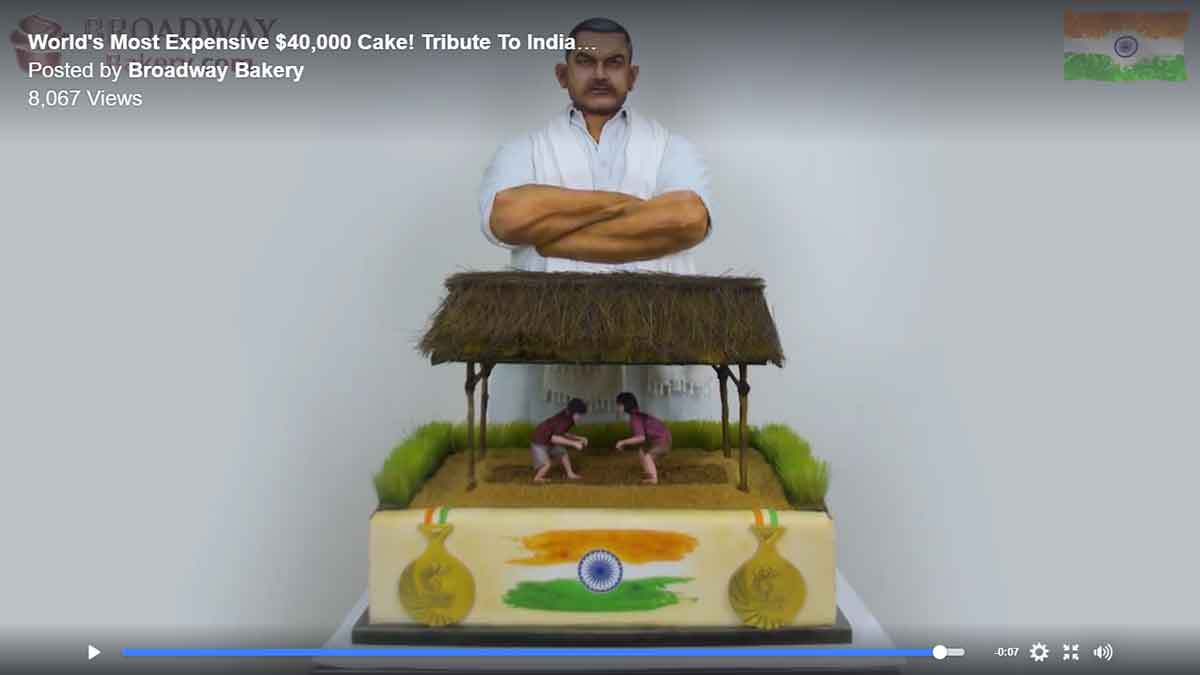 The gold-coated cake weighs 54kg, and is said to be the world's most expensive cake.
By
An unnamed female customer has placed an order at a Dubai bakery, asking for a 'Dangal' cake that costs about $40,000 (Dh146,921) on the occasion of India's 71st Independence Day on August 15. It is the world's most expensive cake, according to Dubai Broadway bakery, which is preparing the delicacy.
The gold-coated masterpiece features Bollywood actor Aamir Khan in his Dangal avatar, the film in which he played the wrestler, Mahavir Singh Phogat. He played the role of the father of India's famous Olympian wrestlers, the Phogat sisters. The scene that will be played out on the cake portrays Phogat's young daughters, Geeta and Babita, wrestle with each other at a makeshift practising ground for wrestlers. Phogat will be shown watching them.
Broadway Bakery, in a Facebook post, say that the cake shows Khan "glamorously looking on with unwavering conviction as he trains his daughters Geeta and Babita for Olympic greatness."
The cake also features two gold medals, referring to the feats of the two young  wrestlers at various tournaments. The bakery said: "The client wanted gold to be generously incorporated into the cake and we fulfilled the request by coating each medal with 75 grams of edible gold."
The preparation of the cake took over three weeks, involving 1,200 man hours. It weighs about 54 kg, and can serve 240 guests. The bakery added: "The cake is 100 percent edible and made entirely using sugar fondant, the signature chocolate sponge, ganache, Belgian chocolate, demerara sugar and edible gold."
To create this cake, the bakery's head chef and the product design teams spent a week studying Aamir Khan so that they could  "perfect the model's immaculate expression and larger than life presence".
This is the bakery's latest extravagant creation. Earlier this year the establishment had made a cake inspired from Game of Thrones, which featured the fan favourite Tyrion Lannister, according to Khaleej Times. It was a four-foot high fondant cake, which cost about $27,000 (Dh99,171). This cake also took three weeks to make and it was so intricately detailed it carried the television show's hundred swords that make up the infamous Iron Throne. The character's fondant version even had a stubble and a scar he received in the show's second season.
The movie Dangal, on the other hand, had opened to wide critical acclaim and became the highest grossing Indian movie worldwide, with an earning of Rs 2,000 crore.