Arts
1000 Cheers for DDLJ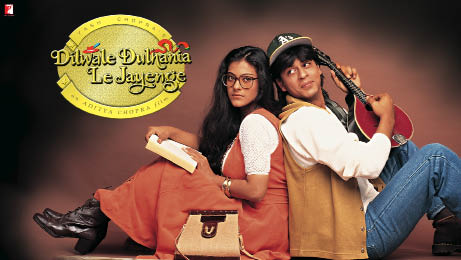 Even after 20 years DDLJ continues to engage, entertain, enthrall and energize zillion of fans worldwide.
DDLJ hits 1000 weeks! screamed headline across all entertainment platforms recently generating a fresh wave of nostalgia and hysteria among its crazed fans, many of whom have moved on from being moony, star-struck Shah Rukh Khan-Kajol teenage junkies to respectable, mid-thirties parents! Maybe, but who cares? Mention Dilwale Dulhania Le Jayenge and it's magic time for them … and na, nobody but nobody can ever hope to ace the Raj-Simran chemistry, they insist!
Gushes 25-year-old Sneha (newly married and high on the trapeze called ecstasy!) "DDLJ was and will remain a once-in-a-lifetime movie! I must have seen it over 100 times, I know every dialogue by heart … but still weep and cheer at moments that hit me!"
Sneha reckons it's the passionate innocence, searing, raw and dramatic that is so youth-friendly and its main driving force and differentiator. "Every woman who has romance in her heart, secretly pines to be Simran, waiting for her Raj to whisk her away in his arms into the sunset."
She also emphasizes how Adi Chopra showed the world that one can connect with mass audiences without being cheap, vulgar and engaging in those stupid down-market jhatka, sexist jokes.
Designer Romsha Singh concurs: "I think it was the right time-right place-right film-right subject stuff that worked for it. I am sure neither Adi Chopra nor anyone else ever imagined that DDLJ would be such a record-breaking, iconic, definitive template for romance in the Bollywood space … but that's how path breaking stuff happen. It's very easy, on hindsight, to list reasons, but truth to tell, it must have been the story, treatment, SRK-Kajol chemistry and music played out in such a fantastically pitched mix of love, romance, comedy, action, melodrama, thrills, songs and dance that pulverized popular imagination!"
18-year-old college student Viraj is zonked at the mention of DDLJ. It is another matter that it was released two years before he was born but, like zillions, he has seen the film a million times and knows every dialogue by heart! "Kamaal ka film hai. Bemisaal!"
Ad woman Chanchal Sharma, however, is determined to play spoil-sport. Says the 28-year-old, "I remember seeing it as a kid but was not blown away, like most. I found it cute, sweet and good time-pass, but no, Raj most certainly did not invade my dreams nor did tujhe dekha …provide any sort of background music!"
She is surprised at the mega hoo-haa the film continues to generate and is quite shocked at its 1000th week run because, "personally speaking, there are better films that deserve this honor than an airy-fairy filmy fairy-tale! Sholay, Mughal-e-Azam and Anand are at least three films that come to mind. They are classic while DDLJ is popcorn for the eyes …" Oooops!
Apart from the chloroformed fans, Bollywood celebrities too have been hit hard by the DDLJ fever. Aditya Chopra's debut directional venture (which swept the 1996 Filmfare awards scooping up 10 major awards) had today's golden girl Deepika Padukone describe it as "a dream film with Kajol's role, my dream role." Ritesh Deshmukh too confesses that SRK's Raj got him so bad, he "aspired to become SRK in real life too!"
Director-Producer-Anchor Karan Johar, who had a sidey, forgettable role in DDLJ, believes it has become an "epic barometer for love stories; a pillar love story!"
However, no fan can beat Kareena Kapoor's compliment to the film. Director Zoya Akhtar says that when the Kapoor girl asked her whether she liked DDLJ, she said, yes. However, when she was asked whether she felt like running behind the train, like Kajol, after watching the film, Zoya said, No … and admitted that neither was DDLJ her favorite film. Kapoor screamed, "If you don't think that DDLJ is the best film ever made, you won't be a director!" Apparently SRK had to intervene into this conversation to cool the temperature!
Serious DDLJ watchers have listed five major reasons why even after 20 years DDLJ continues to engage, entertain, enthrall and energize zillion of fans worldwide — beginning with audiences at Mumbai's Maratha Mandir where it celebrated its 1000th week between 12th-18th Dec 2014. First is the entertaining story factor: two lovers determined to be together despite insurmountable roadblocks; humor and pathos; traditional and modern values meeting and clashing. Then there is the dazzling cast — SRK, Kajol, Amrish Puri, Anupam Kher and Farida Jalaal, all consummate actors in their own right. Then of course the mesmerizing, magnificent, magical music! Each and every song from Tujhe Dekha to Ruk Jaa O Dil Diwaane to the crazy, zany and delightful Zara Sa Jhoom Loon Mein … is bang on target and even today remains just as hummable and popular. Jatin-Lalit Pandit sure scored big. The film is also a fascinating travelogue, taking audiences on an exciting whirlwind trip across Europe with two mad caps on the loose. Lastly, it dishes up a super culture statement in terms of values that are intrinsically Indian. It scores high on the tradition, ethos, rituals and relationships that define the Indian sensibility, a legacy of our sacred 5,000 year old civilization. Little wonder it took the NRI audiences by storm, opening the floodgates for more of this genre to follow, which K-Jo, did with speed and style.
Today, as we salute DDLJ — a film that even Hollywood's celebrated director Robert (Twilight) Pattison loves and rates among his five best loved movie romances, along with Notting Hill, 50 First Dates, Sweet November and Ghosts — in a world of here today-gone today, DDLJ demonstrates the passion, power and beauty of love that never dies.