Business
Indian American Hotels Scale Up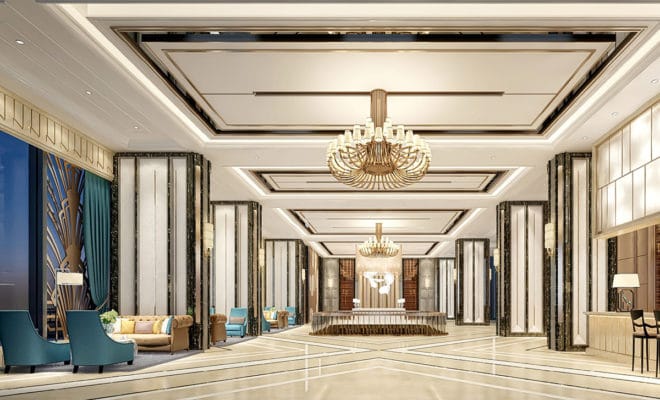 Over the past three decades, enterprising Indian Americans, especially Gujaratis, have come to dominate the low to middle-budget hotel industry in America.
Gautam and his partners own 64 hotels with 5,400 rooms across the United States, including such properties as the Sheraton in Orlando and Hilton in Atlantic City, N.J. His company also offers consulting and manages luxury properties for third parties in the United States and South America.
Gautam, who came to the United States with $6 in his pockets and built his conglomerate on his own, doesn't view himself as a first generation Indian American hotelier: "I would call myself the in-between generation of hotel owners. As I started in the 1990s, unlike the earliest motel owners, who began back in the 1960s."
Gautam is a veteran among the new generation of Indian American hoteliers who are turning their once modest businesses into luxury empires.
Over the past three decades, enterprising Indian Americans, especially Gujaratis, have come to dominate the low to middle-budget hotel industry in America. Now the second generation is going upscale.
The Asian American Hotel Owners Association (AAHOA), a trade organization of Indian American hoteliers, claims 16,500 members nationwide who represent more than 23,000 properties, accounting for 50 percent of all hotels in the United States. The properties employ over 700,000 people and account for nearly $10 billion in annual payroll.
Pawan Dhingra, sociologist and author Life Behind the Lobby: Indian American Motel Owners and the American Dream, estimates that half of all motels in the United States are owned by Indian Americans. Indians reportedly own 22,000 hotels and motels across the United States, valued at $128 billion.
Dhingra says: "The second and now the third generation has grown the businesses. They often move up into franchised establishments. They are making inroads into boutique places."
More interestingly, he adds: "They are branching out of motels per se and are involved in real estate, law, finance and other businesses that serve the motel industry. In this way, they are building from what their parents established."
B.U. Patel is one of those parents. Originally from Singod, a village in Gujarat, Patel arrived in Irvine, Calif., with his family in the 1970s from Zambia to escape the unrest in African countries, where many South Asians were being expelled. Abandoning his clothing manufacturing facility, he decided to venture into hospitality and purchased his first property — a modest 12-room property, called the Dunes Motel, in Anaheim near Disneyland.
Today, Patel's two sons, Mike and Tushar, have turned their father's legacy into one of the most successful privately-owned hotel management companies in the United States. Tarsadia Hotels owns a large portfolio of properties, including the Hard Rock Hotel in San Diego and the San Mateo Marriott.
Tarsadia Hotels is emblematic of the shift by the younger generation from inns and motels toward luxury properties. Dhingra says: "The younger generation has been aiming toward higher-end establishments. They might have masters' degrees in business or hotel management, and they are taking advantage of their resources and experience to see how they can make their mark."
San Jose, Calif., based Lotus Management is among the hospitality companies representing this trend. What started in the 1970s as a small family run hotel business, which Jayantibhai Patel managed in a dingy San Francisco neighborhood, is now a hospitality company that offers investment opportunities in major hotel brands, such as the Marriott and Intercontinental. The $80 million company has two of Patel's granddaughters in senior management — Pratima Patel, who oversees the company's accounting and Katki Patel who serves as director of finance — as it expands and diversifies the family business.
Lina Patel, whose hotel portfolio includes Wyndham, Red Roof Inn and Intercontinental Hotel Group, says: "The rapid growth of the sector can be seen from the fact that today Indians own one in every two hotels in America."
She adds, "So many of our peers are diversifying into allied trades such as asset management, insurance, banking and what not."
In 2010, she floated Himalayan Glacier Trekking, an international adventure travel company. She is also owner of RH Travel, an extreme adventure travel company that hosts events in the Himalayas.
Roots
Indian American hoteliers have grown by leaps and bounds since Kanji Desai, widely credited as the first Gujarati hotel owner in America, took over a 32-room property in Sacramento, Calif., in 1942. Their numbers grew organically as the earliest hoteliers offered more than a handshake to new immigrants entering the motel businesses, assisting with loans based on trust.
Growing up behind the corridors of hotel lobbies, hotelier children who have opted to stay in the family business, have developed a flair for the industry. Bred on the pains and struggles of families that worked long hours to survive and sometimes thrive, many in the new generation are now venturing out. Several have secured hospitality degrees from the country's premier institutions and thus have a better understanding of the global hospitality industry.
The second generation is determined to break the stereotypes and the discrimination that dogged their parent's generation of immigrant motel owners in America.
Priyesh Patel, vice president for Kusum Hospitality, a family run business that owns 12 mid-budget to luxury hotels in Oklahoma City, has seen the struggle first-hand: "My parents, who migrated to the U.S. in 1978, owned a 20-room motel where they lived and worked. While it may sound decent to start in a new country, but the reality was much different."
He explains: "We lived in bad neighborhood in Oklahoma and I went to school from the hotel. After I was back, we did everything from vacuum cleaning the rooms, to cleaning the bathrooms to managing the front desk all by ourselves. The fact that so many of us were involved with our parents from scratch and even helped them as high schoolers as they barely spoke English, inherently prepared us for this business."
The early struggles of their parents, often mocked in popular culture on shows such as The Simpsons, has motivated many second generation hoteliers to dream bigger and strive to re-haul the Indian motel owner identity.
Mike Patel, asset manager at Los Angeles based Devan Hospitality, is a second generation hotelier helming the introduction of several infrastructural and corporate changes of his family business. He says: "It was important for the next generation to re-structure the industry as was set by our parents, and I would say it was easier for us than for them. We already had a building block and we were no longer looking at only survival. We had college degrees, we were savvy with American mannerisms, we had seen the grind and were roaring to take the next step."
Patel, who is responsible for the development and branding of 4-star boutique hotels in Hollywood and Long Beach, Calif., says many other second generation Indian Americans are striving to keep pace with the times: "I grew up in Wyndham Travelodge in Long Beach, but I knew that to grow or sustain my family business, we had to cater to the American clientele and not be seen as outsiders in the industry."
Kusum Hospitality's Priyesh Patel says: "Growing up, I saw the discrimination my parents faced. It was hard to get entry into the industry, not to say the bigger brands would never want to give franchises to Indian-origin hotel owners. They were not given the respect they deserved for working hard and establishing brands."
So, how did the second generation begin giving a facelift to the Indian American hotelier community, which had become widely associated with budget motels with minimal hospitality services in public perception? Priyesh Patel says: "It began by thinking of ourselves as corporates. We began by forming a management company and we also re-structured how the company worked. I began by appointing an area manager, director of sales and looking at expanding the growth. We were lucky as having grown here we were not scared of getting into the door and that made a lot of difference."
Motel Gita
Nandini Kishori works closely with the Indian American hotel industry as director of Motel Gita, a non-profit initiative that strives to place copies of the Bhagvad Gita in hotel and motel rooms across the United States. A frequent attendee of hotelier conventions and a keen observer of the diversifying trends in the Indian American hotel industry, Kishori says: "What started with non-upscale and mid-budget hotels has today diversified into luxury hotels and there are so many success stories. I know of a Nashville based hotelier who owns a charter plane! I am sure they must be doing something right."
The willingness of Indian American hoteliers, who, as recently as a decade ago, had to contend with "This Motel is American Owned" signs across the United States, to feel confident enough to offer the Bhagvad Gita inside the drawers in rooms, is a coming of age. Kishori claims that under the Motel Gita initiative, the Gita has been placed in more than 5,000 hotels in 500 cities. The project was launched in 2008 with the first copies introduced at the Sea Breeze Hotel in Pacifica, Calif.
Dhingra attributes the new confidence to several distinct advantages the new generation Indian American hoteliers have over their parents: "When they first started, they were able to (make a mark) because of a variety of historic factors. They were not experienced in hotel management when they arrived in the 1940s and 1950s. They pooled their money, relied on family labor, found cheap establishments, and put in the very long hours necessary to run them."
He adds: "I was struck by how accomplished Gujarati Americans had become in the industry, and how they managed their lives and families when living in all kinds of pockets in the United States. It is not easy to live in one's motel or to live removed from metropolitan areas. But, they have accomplished that and more."
The success stories that followed are inspirational. Indianapolis based Sun Development, led by Bharath Patel, has a portfolio comprising embassy Suites in Newark NJ and Paldale, Calif., amongst many others and it has several luxury projects, such as Cambria Suites and Aloft, Secauacus, NJ, in development.
Women Entrepreneurs
The rise of several women to the forefront of many Indian American hotel businesses is a marked departure from their moms, who frequently assisted in the backdrop.
Lina Patel, a second-generation hotelier who serves on AAHOA's board of directors, confirms the shift. In October she co-chaired AAHOA's annual Women Hoteliers Conference in North Carolina, focusing on hospitality law and technology.
Purvi Panwala, a second-generation hotelier, is president and CEO of Purvi LLC. Responsible for re-positioning and managing The Lincoln, an independent hotel in Philadelphia, Panwala says she learnt everything on the job: "I am the CEO of the company even though I have a brother in the family."
While many women are in the industry, "They are not necessarily seen on the forefront," she says. "For long they had been involved in HR, accounting or other softer positions, but I believe today a growing number is stepping up and taking important steps, such as being a part of the legislative summits too."
Panwala, young professional director at AAHOA, says: "We visit Washington D.C. twice a year and inform the congressmen and senators on our issues and challenges."
Priyesh Patel says the new-found assertiveness in U.S. public life is a major shift from their parental generation: "Our parents didn't feel confident or were not aware how closely politics affects our industry and hence the representation was very limited."
Panwala laughs at the transformation: "Today at these legislative summits, we are the majority."
The women entrepreneurs bring particular sensitivity to women's issues. Panwala says: "All my staff is trained in human trafficking prevention. We have to be aware that sadly trafficking often begins at hotels and we have to be extremely cautious and diligent."
Spreading Wings
The new generation is also focused on diversifying the family portfolio into new businesses and sectors. Devan Hospitality's Mike Patel says: "As we educate and expand ourselves, it was only fair for the new generation to diversify into other arenas. We know that the recession can hit and hurt us, so it's only pragmatic to have another venture." Patel has diversified into multi-family apartments in New Port Beach and has also partnered with a startup technology company that works on a hospitality venture.
Panwala says that many in the new generation no longer see their ventures as family businesses, but as "wealth management structures and that has led to us look at allied fields that can benefit our primary businesses."
Growing up in the shadows of the mocking and taunts that accompanied the Indian concentration in the motel industry, the new generation treasures most the newfound respect and recognition for their once modest businesses. Priyesh Patel says: "My biggest achievement is the fact that I never had to think about taking up a more American name for myself or my business. Kusum Hospitality, named after my grandmother may be a difficult name to pronounce for many, but is well-known."